The user interface has been generally but subtly refreshed.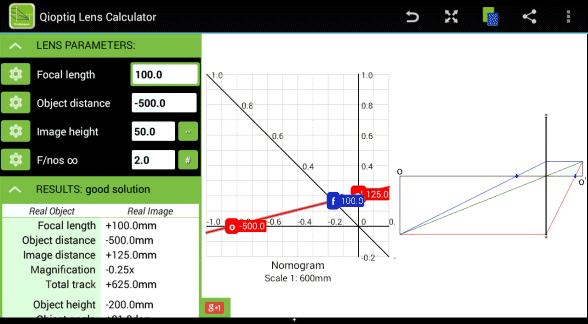 The buttons offering Undo, Expand, Drawing-type, Share, which used to occupy spaces in the general display, have been moved to the Menu [Action Bar]. Settings, Help, and About are now in the Action Bar Overflow along with options to reset [to default lens], rate the app and to make suggestions.
To help optimize the screen layout [specially useful on smaller displays] there is now:
- button to show/hide key parameter area [temporarily]
- button to launch a dialog to show/hide graphics [in single column mode] and different sections of the results table. These choices will be remembered from session to session.
Finally the is a better display of aperture related results, indicating when selected value is 'too large' - we use a practical value with the f number infinity of 0.9. Larger apertures are clearly shown with red text in the results table.
prev MachVis 4.0 launched .. next.. PreDesigner [Lens Calculator] for Android v7